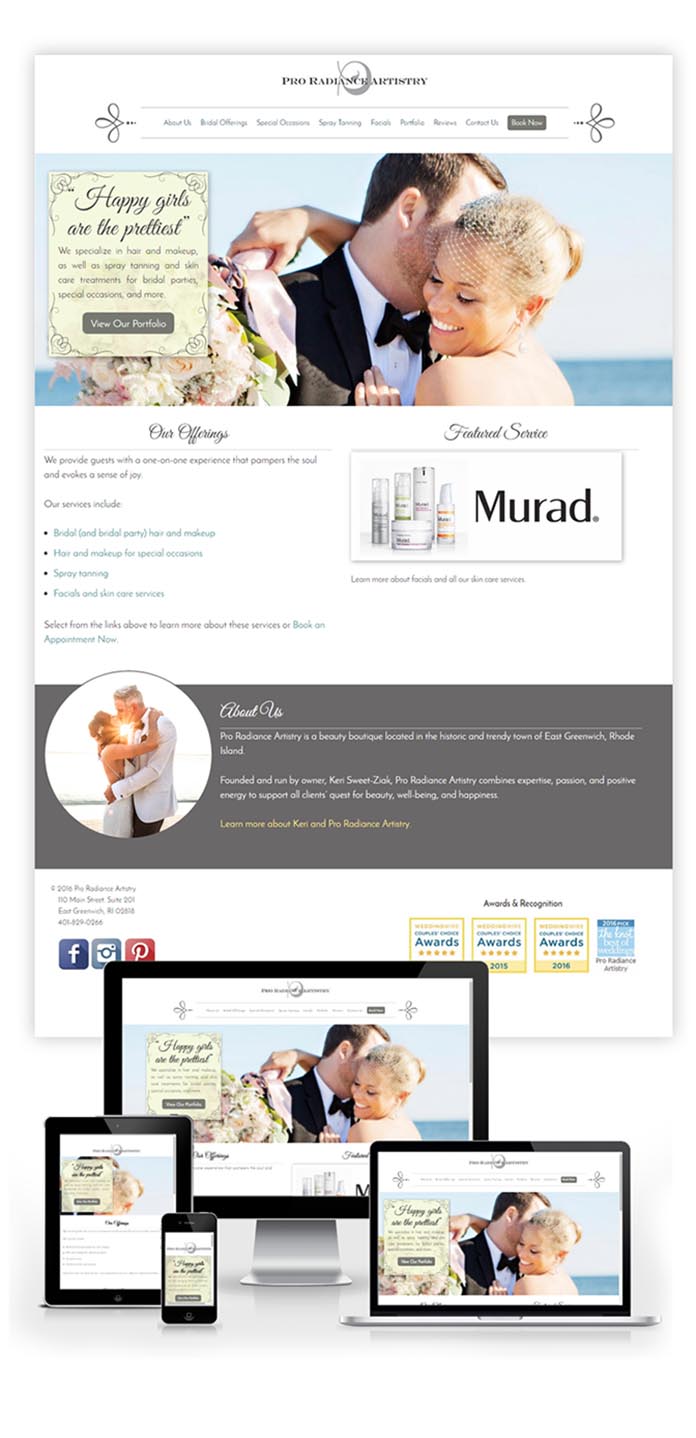 Project Summary
Working with clients is one of the things I love about being a web designer, and I have a soft spot in my heart for clients that are running a small business and who need help with their website. When Keri contacted me about a website for her business that provides wedding hair and markeup, spray tanning, and skin care services in East Greenwich, RI. She actually already had a website, but it was impossible for her to manage because all the content pages were delivered as images instead of actual web code. It was also not mobile-friendly or search engine friendly at all. The challenge was that, as a small business, the company had a pretty strict budget for this project. Thanfully, the site she needed was also pretty small and straightforward, so I was happy to find a way to help her out.
I began the project with a custom design that reflected the clean style that I saw in Keri's boutique. I wanted the design to be clean and timeless feeling with a little flair, which I added with some nice accents to the navigation menu (on the larger screen design) and the billboard's message area. Keri loved the design from the get-go and she approved it with basically no changes.
The development of the site to be fully responsive came next and I integrated the code into the ExpressionEngine CMS platform. This would allow Keri to easily update her website in the future, including the pricing of her services and the portfolio with images of the boutique's work. After training Keri how to manage the website, she took the reigns and was quickly adding content in a way that her previous site had not allowed for.
All in all, this was a small project for sure, but it was one that I really enjoyed working on. Keri and her husband were great people to deal with, and I know that my efforts to help the company with their web presence will have a huge impact on their overal digital presence. That impact is not one you always get with larger projects, so it was really refreshing to work for this small business and do great work that I know will pay off.
You can see the new website at www.proradianceartistry.com