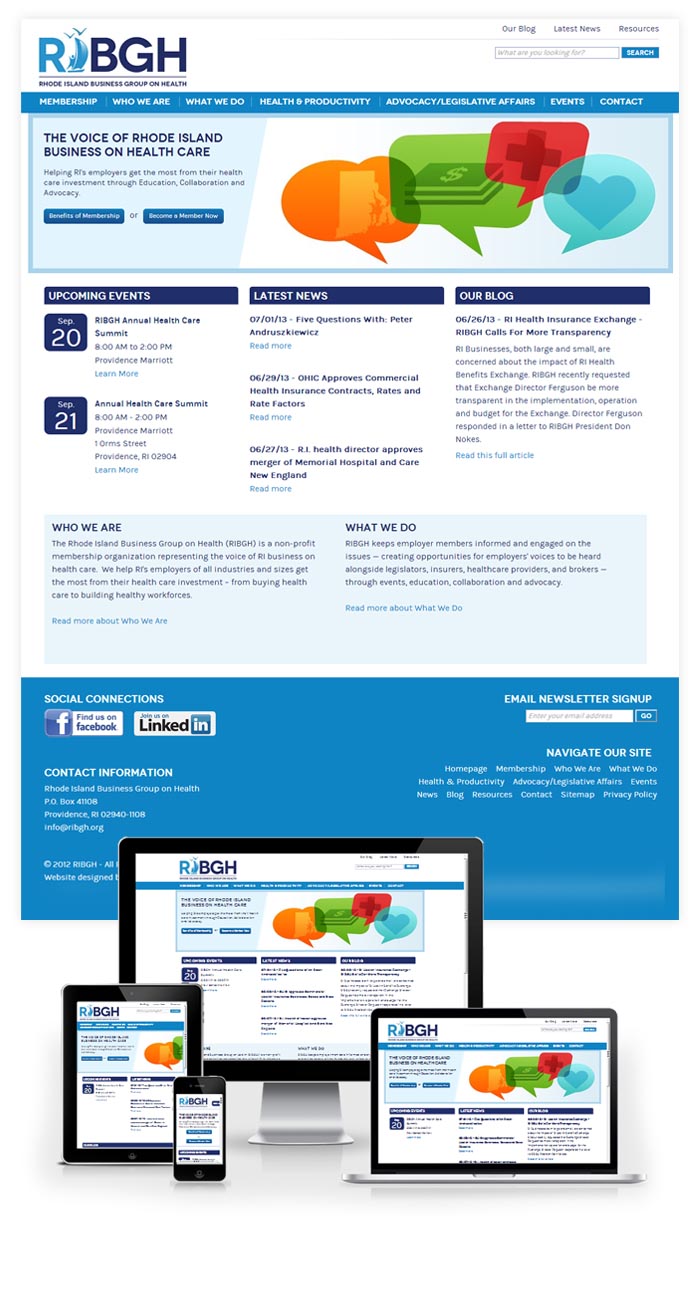 Project Summary
The Rhode Island Business Group on Health, or RIBGH, is a non-profit organization whose goal is to "help RI's employers get the most from their health care investment through education, collaboration and advocacy." When they came to Envision in early 2012, they were looking for a complete overall of the organization's brand - from their logo and printed materials, to their website and online marketing efforts, including email, social media, and more.
This project started with a redesign of the organization's logo. A number of options were shown and a few rounds of revisions presented before the final design was approved. This final logo, which was created by fellow Envision designer, Sarah O'Donnell, embodied the clean, strong feel we were looking for - also tying into the "ocean state" aspect of Rhode Island and the healthy lifestyle element that is so important to RIBGH's mission
With the new logo in place, we next began work on the website's design. The final, approved layout was one that I designed and I also created the HTML/CSS templates for the site, including the responsive design of the site so that it supports a variety of devices and screen sizes, before turning the project over to Envision's Lead Front-end Developer, Jeremy Spurr. Jeremy then built out the rest of the site and integrated it with the ExpressionEngine content management system.
This entire project was a very consultative engagement from start to finish and RIBGH were a great organization to work with on this project. Routine strategy meetings and phone calls helped shape all aspects of this project to give RIBGH the online presence, and platform for growth, that was important for their continued success.
You can see the new website at www.ribgh.org.