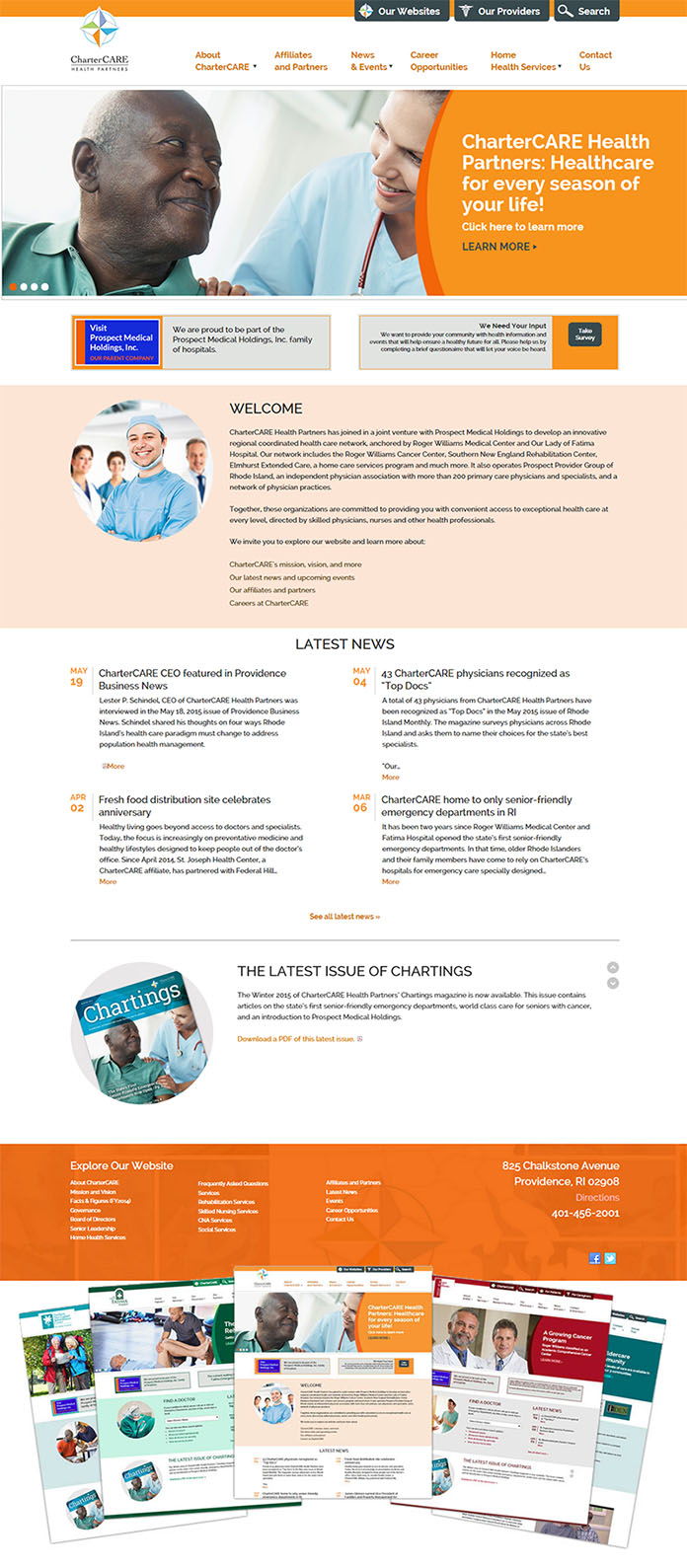 Project Summary
CharterCARE Health Partners has worked with Envision Technology Advisors for many years. When the organization, which includes Fatima Hospital and Roger Williams Medical Center, was acquired by Prospect Medical Holdings, we knew that it was the perfect time to explore a top to bottom overhaul of CharterCARE's entire family of websites. Those websites has been designed and developed at different times over the years. As such, there was little to no consistency between them on a visual level and many of the sites were outdated from a technology standpoint. The goal for this project, which included a redesign for 9 different websites, was to not only create a consistent visual language that they would all share, but to also redevelop all the sites so that they were multi-device responsive and built upon the ExpressionEngine CMS to allow the client to more easily manage all the sites.
My role in this project was largely a project management one, although I did also do all the initial design work. My goal with that design was to create a system that could be used across all the websites. I wanted each site to be unique in terms of the colors, messages, pages, etc., but I also wanted every site to feel like part of a larger whole.
I began this design process with the site for Fatima Hospital. Knowing that this site was one of the largest ones we would be working with, I figured that was a good place to begin and to really address the project at a large-scale level first. Each of the websites that I was redesigning already had their own distinct colors used on some way (Fatima used a dark green, RWMC used red, etc.), so I carried those colors onto the new designs to provide a link to the past and make it so the new sites felt like an evolution of what had come previously.
One of the biggest challenges that CharterCARE has had over the years is their constant need to add important messages to their sites. These message could include new information critical for patients to know, awards or accolades that the hospitals or doctors had received, or other important announcements. On the old sites, it was always a struggle to find room to squeeze these messsages in, and those sites quickly felt overloaded and confused. To combat this on the new sites, I made sure to design ample space where various messages and communications could reside, including the "billboards" at the top of the page, the "latest news" entries teased on that page, and finally in a flexible area above the footer of the page.
From a technical standpoint, all of the sites in the family shared one ExpressionEngine CMS. These sites were tied together with the platform's Multi-Site Manager plugin so that CharterCARE could easily manage all the websites from one central location. Entries for new releases or doctor profiles could therefore we shared across multiple sites, ensuring consistency in the organization's content and messaging.
With 9 websites to redesign, project management was an important part of this project, and after the Fatima site was well underway, we began to tackle the other sites two at a time by building off of what we had established for that first site (Fatima). After about 5 months, we launched 5 of the 9 websites, including Fatima Hospital, Roger Williams Medical Center, Elmhurst Extended Care, Southern New England Rehabilitation Center, and the main CharterCARE.org website. The remaining 4 sites in the family are in development and slated to launch in the coming months.